It's Really Hard Not To Notice All The Penises At The Olympic Ski Jump Center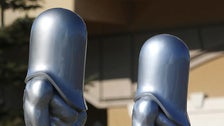 The latest meme to emerge from the Winter Olympics in Pyeongchang, South Korea, has nothing to do with the athletes or the sports. It's about a group of statues outside the Alpensia Ski Jump Center. 
Called the "Bullet Men," the statues have phallic heads and, well, actual phalluses. Needless to say, they're getting plenty of attention on social media, especially in Japan where the images were shared under the hashtag #モルゲッソヨ, which is based on the Korean phrase for "I don't know." Tokyo Sports reported that someone asked a volunteer in Pyeongchang about the statues, and that was the reply. 
Here's how the statues are getting a rise out of Twitter users: 


Read more It's Really Hard Not To Notice All The Penises At The Olympic Ski Jump Center appeared first on http://huffingtonpost.com